Source: theatlantic.com
Bitcoin (COIN) has a had an incredible rollercoaster ride over the past year. Prices have fluctuated wildly from about $800 to nearly $20,000 per coin. However, over the last month Bitcoin has been trapped in a trading range, as the digital asset has been consolidating since hitting an all-time high in mid-December. Bitcoin attempted a breakout in recent days but was denied at a crucial resistance level, $17,000, not exactly a positive development from a technical standpoint. Moreover, several troubling fundamental elements appear to be materializing concerning Bitcoin. Thus, deteriorating technical factors, coupled with weakening underlying fundamental elements are likely to put increasing pressure on Bitcoin's price over the short-term.
My Personal View on Bitcoin
I am a strong believer in Bitcoin and its Blockchain long-term. The decentralized aspect of Bitcoin, its popularity, and its potential multiuse function as a digital commodity, a form of global currency, as well as a digital store of value are extremely appealing from a long-term investment point of view. However, widespread adoption of Bitcoin as a credible alternative form of currency with the potential to challenge the current fiat monetary system remains far in the future.
Therefore, Bitcoin's rise to a multitrillion dollar market cap is not going to be a smooth ride up on an elevator. There will be peaks and troughs, ups and downs, huge rallies as well as big shorts. So, while I am a believer in Bitcoin long-term and see the price going much higher in the years ahead, I cannot ignore the immediate evidence that suggests Bitcoin could fall further over the short-term.
Primary Areas of Concern
1. Loss of Technical Momentum
2. Increased Short Interest from Institutional Investors
3. Bitcoin's Crashing Market Share
4. Bitcoin's Continued Functionality Issues
5. Governments' Continued Crackdown on Bitcoin
Loss of Technical Momentum
It's essential to point out the decelerating technical momentum apparent in Bitcoin right now. The digital asset's inability to break decisively above $17,000 is a troubling technical development. Moreover, a closer look reveals that Bitcoin appears to have put in a second shoulder on the daily chart. We can now see a clear head and shoulders pattern in the chart which appears quite bearish from a technical point of view.
Bitcoin 10-Day Chart


Source: Bitcoincharts.com
If Bitcoin is not able to breakout above $17,000 in the coming days, there is a good chance BTC retests the $12,000-$12,500 support level. Considering the mounting short interest in BTC and the stacking fundamental concerns facing the digital asset, the underlying support could plausibly buckle. If the $12,000-$12,500 level breaks this would nearly guarantee a retest of $10,000, and a break below $10,000 would open the possibility for a much bigger stumble.
Bitcoin 3-Month Chart



It's important to point out that $10,000 is a key psychological level, and a break below this point is likely to incite a significant wave of selling, that could culminate in a panic washout. In such a dramatic selloff event Bitcoin's price could fall to a support level of $5,000-$6,000. I am not suggesting Bitcoin is likely to fall to $5,000, but it is possible if prices end up falling below $10,000.
Bitcoin 1-Year Chart



Increased Short Interest from Institutional Investors
While some retail investors are taking out mortgages to buy Bitcoin, many institutional market participants are stacking up bets against the digital asset. Traditionally this trading dynamic ends badly for the little guy. Recently compiled data by the Wall St Journal shows that retail investors are 3.6 times more likely to put on bullish BTC bets, while institutional guys are 2.6 time likelier to put on short bets.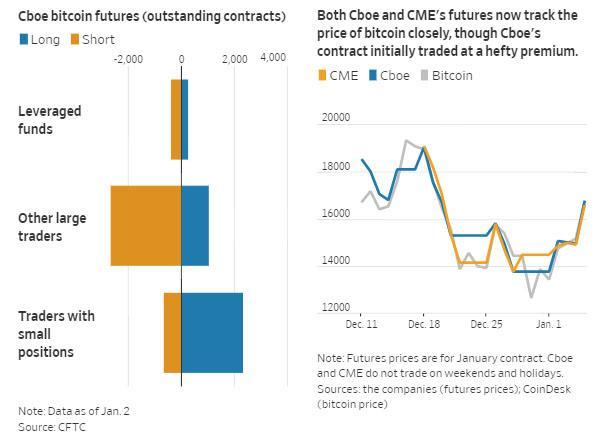 Source: etfdailynews.com
The data was compiled by analyzing Bitcoin futures positions, categorizing positions over 25 contracts as institutional investors, and classifying positions under 25 contracts as retail clients. Considering that 25 contracts equates to roughly $350,000 suggests that there are a lot of hefty futures bets of over $350,000 being placed against Bitcoin in recent weeks. Naturally, the primary reason institutional, or "smart money" investors would be wagering such large sums against BTC is if they were fairly sure the price had further to fall in the short-term.
Bitcoin's Crashing Market Share
Bitcoin's market share of the total cryptocurrency market has dropped drastically over the last year. One year ago, BTC's value represented about 85% of the whole cryptocurrency market, about 1 month ago it was 60%, and now it is at an all-time low of just 33%.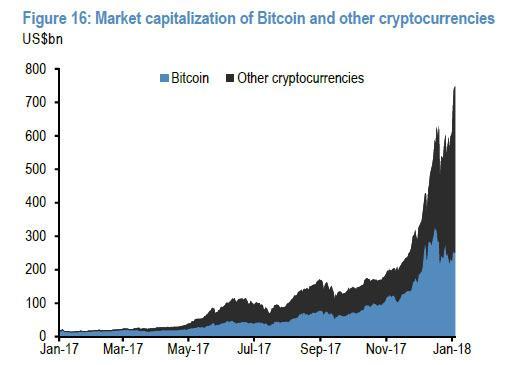 Source: etfdailynews.com
This suggests that Bitcoin may be losing its luster in some areas of its proposed functionality. For instance, Ripple is taking over the financial transaction segment, Monero found its home on the dark net as the anonymous currency of choice for shady underworld…